Vision
The ATTS aims to be a centre of excellence in the training of future generations of Alexander Teachers. The programme is designed for each student to develop his/her highest capacities. Students are encouraged to integrate the principles of the Alexander Technique and to develop into authentic and unique Alexander Teachers.
The ATTS offers a contemporary approach to adult education. Students are accepted into training as equals who participate and take responsibility for their own process.
We aim to create an environment free from sectarianism. We welcome visiting teachers and students from different trainings and lineages in an atmosphere of openness and respect.
The ATTS provides a space where teachers can come to visit freely after their training and continue to develop their teaching skills in an atmosphere of mutual enquiry.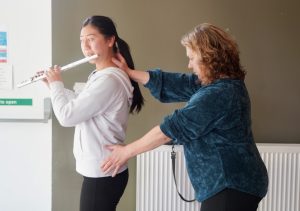 We offer a post-graduate training certificate at the school. Qualified teachers from any school are welcome to participate in the training as one of the students. This course of study can be tailor-made to include a minimum of two days per week over a period of between one to three terms. A certificate will be awarded in recognition of this post-graduate study.
The ATTS believes in the importance of training the future generation of teacher trainers to the highest standard. The school supports candidates who wish to gain experience in the skills of running a training school or working as a trainer.
We have established a network in which teachers can meet regularly to engage in creative dialogue and to exchange work. These small group meetings include a supervisory element that supports the ongoing professional development of the teachers.
The ATTS believes that it is important not to impose a 'philosophy' onto a training course. As with the Alexander discoveries, the theory and the philosophy are an outcome of the practice, and not the other way round.
We aim to facilitate a measure of self-criticism among our teachers so that they do not fall into the traps of complacency and arrogance.
The ATTS believes in ongoing dialogue and debate within the Alexander community without having to compromise the essentials of the technique. The ATTS is committed to the transmission of Alexander's core principles.